10 Benefits of Buying Car Insurance Online That You Should Know
Cars are one of the most purchased commodities. It ensures greater comfort when traveling and is also considered an indicator of a person's financial status. Over the last few years, there has been a substantial increase in the number of cars plying on the road. With an increase in the number of cars, there also have been rising instances of car accidents in India. This is one of the reasons why stringent laws have been put in place for people driving an insured car.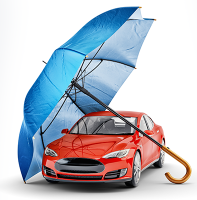 For the uninitiated, car insurance is mandatory in India. Under the Motor Vehicles Act, 1988, a car can ply on public roads in India only if it is insured under a valid car insurance policy with a minimum of third party cover. If you aren't well versed with the various coverage offered under motor insurance, go through the types of car insurance available in India.
Types of Car Insurance in India
Based on the coverage offered, two types of car insurance plans are offered in India:
Third-Party Car Insurance –
Third-party car insurance is a type of motor insurance policy that covers you against any damages or bodily injuries or death caused by your car to third parties during an accident.
Comprehensive Car Insurance –
Comprehensive car insurance is a motor insurance type that covers you against third-party accidental liabilities as well as damages sustained by your car as a result of fire, manmade calamities, theft, accident, and natural disasters. It has a broader coverage scope that also covers the car's owner-driver against accidental disability or death.
The motor laws of India mandates only third party cover for every car owner. Third-party liability cover is available under both third party and comprehensive car insurance offered by all motor insurers in India. The decision to buy a comprehensive policy or to stick to the basic third party car insurance depends on your preference and budget. Just make sure to buy the best car insurance in India that suits your coverage needs.
How Can You Buy Car Insurance?
There are two ways of buying the best car insurance in India – online and offline. Traditionally, motor insurance was purchased offline. With technological advancements, it is possible now to buy car insurance online. Take a look at the different ways of buying car insurance offline and online.
Offline Process of Buying Car Insurance
Car insurance can be purchased offline by:
Contacting an insurance agent
Visiting the nearest branch of the motor insurance company
Calling on the contact number of the car insurance provider
Online Process of Buying Car Insurance
You can buy car insurance online by:
Visiting the motor insurance company's website from whom you want to purchase the policy
Visiting the website of an insurance broker, such as Policybazaar.com
10 Benefits of Buying Car Insurance Online
As compared to the offline purchase of insurance, buying the best car insurance in India comes with its own sets of benefits. Take a look:
Minimal Paperwork
A car insurance policy purchased online involves minimal paperwork. In fact, some motor insurance companies issue insurance policies online with zero paperwork. To begin with, the proposal form is filled digitally and the scanned copy of any required documents are submitted to the insurer online. Moreover, the soft copy of the policy document is sent to your registered email id once the policy has been issued to you. As a result, online purchase of car insurance does not require you to immerse yourself in filling several forms and also promotes a greener environment.
No Need for an Insurance Agent
Online purchase of car insurance eliminates the need for an insurance agent. An insurance agent is a person with expertise in the insurance industry who helps customers to understand the various coverage & jargon and buy a suitable policy. But when you are buying a policy online, you can easily check the internet for the meaning of a term and jargon that you don't understand. Even motor insurance companies make it a point to simplify this jargon so that every car owner can understand them easily. In case of a doubt, you can always contact the insurer and get it cleared.
More Economical
Buying car insurance online is more economical than buying it offline. When a motor insurance company operates online, its overall operational cost reduces. Car owners buy the policy online themselves which eliminates the need for an insurance agent to enroll customers. Thus, it reduces the expenses incurred on paying a commission to an agent. Similarly, online policy purchase involves minimal to zero paperwork, which further reduces the operating costs by reducing the cost of stationery substantially. With the insurer's operating cost reduced to a great extent, they offer you car insurance at a much-reduced price.
More Convenient
It is more convenient to buy car insurance online than traditionally. To buy a policy offline, you need to visit the branch of an insurer or meet with an insurance agent. On the other hand, you can buy the best car insurance in India online without even stepping out of your house. You don't need to stand in a queue or wait for hours before buying a policy. You can simply apply for car insurance any time of the day as the internet is at your disposal all the time. Moreover, you can also pay the premium online using your bank cards or internet banking.
Instant Policy Issuance
When you buy a car insurance policy online, your policy is issued to you almost instantly. You don't have to wait for days to receive your policy document. Your motor insurance provider issues your policy document within a few minutes. But when you buy car insurance offline, you may get your policy document a few days after you apply for it.
Faster Process
The process of buying a car insurance policy online is any day faster than buying it traditionally. You can buy the best car insurance in India online in a matter of a few minutes. All you need to is fill up a few basic details about your car and your contact details from the comforts of your home and you can get your policy in no time. On the contrary, when you buy car insurance offline, you need to meet with an insurance agent or visit the insurer's branch, fill up a few forms and submit it to them. Your application will be processed and you will receive your policy document after a few days of applying. Thus, online policy purchase is faster than the offline process.
Online Comparison
One of the best things about buying car insurance online is that you can compare different car insurance policies online. There are a plethora of car insurance policies available in the market and it can get pretty confusing to find the best car insurance in India. While buying car insurance online, you have the option of comparing car insurance plans from different insurers online at broker websites, such as Policybazaar.com. You can compare these various motor insurers plans based on policy coverage, features, and premium to find your ideal car insurance plan.
Easier to Check the Insurer's Credibility
It is easier to check the credibility of a motor insurance company online than offline. Before buying a car insurance policy online, you can go through the company's website to find out about its Incurred Claim Ratio, claim procedure, and claim settlement speed. Besides, you can also check the reviews of existing or previous customers to get a clearer picture. These details can help you learn if an insurance company is what they project for real. Finding all these details offline can be really difficult and time-consuming.
Soft Copy of Your Policy Insurance Document
When you buy car insurance online, you get your policy document online on your registered email id. Your email keeps the copy of your car insurance policy document safe for future references. You may lose the hard copy of the policy document which is issued under offline policy purchase. But during online purchase, you have a soft copy of the policy document waiting for you even if you lose its hard copy. You have the liberty to take the printout of the policy document as many times as you want.
Easy Policy Endorsement
Requesting an endorsement in your car insurance policy is easier online than offline. Traditionally to get an endorsement on your policy, you need to submit the details, the endorsement form, and any documents physically to your insurer. This is quite a hassle and time-consuming. If you had purchased your policy online, you just need to submit a self-declaration along with the proof of the changed detail to your insurer online. The insurer will pass the endorsement.
In a Nutshell
Technological advancement in the insurance industry has made everyone's lives easier. You must utilize these advancements and buy the best car insurance in India online to enjoy the benefits that come with it. In case of policy renewal, make sure to get your motor insurance policy renewed before the previous policy expires.
Source – policybazaar.com